Add Comment |
Related Links |
TrackBack

Related Content
Ladybug's music band is a hit in Pongo Island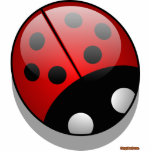 Our dear old Ladybug was getting bored in her home in Wono Lullu. She decided to go take a tour of Europe which her grandfather had mentioned in his bed time stories. As soon as she reached Europe, she went around the market place to look for something interesting. Voila! She found a small radio. The radio was of purple color with pink stripes on it. Our cute Ladybug immediately purchased it. As soon as she tuned in, songs from The Beatles were playing. She looked amused. Beatles! Ain't ladybugs called Lady Beetles in Europe (Of Course, our Ladybug did not give much attention to the difference in the spellings). She immediately learnt more about this band. Their achievements inspired her to make her own band which she named as "The Lady Beetles". She went back to Wono Lullu and her friends joined her to complete the band.
"But where will our talent get appreciated?" wondered Ladybug. Just then the radio station gave some interesting news about Pongo Island. There was a music extravaganza planned at Pongo Island and new bands were invited to play. "Wow!" screamed all the band members of The Lady Beetles. Off they went to Pongo Island where they were greeted by the Cutie Buddies. The band played their music and soon enough they were signing autographs for all inmates of Pongo Island. The Lady Beetles then decided to make Pongo Island their home.
Barbie
Fri, 26 Nov 2010 22:14:35 -0800
Add Comment |
Related Links |
TrackBack

Related Content
Did your message disappear? Read the Forums FAQ.
Spam Control | * indicates required field
TrackBack only accepted from WebSite-X Suite web sites. Do not submit TrackBacks from other sites.
Send Ping | TrackBack URL | Spam Control
No TrackBacks yet. TrackBack can be used to link this thread to your weblog, or link your weblog to this thread. In addition, TrackBack can be used as a form of remote commenting. Rather than posting the comment directly on this thread, you can posts it on your own weblog. Then have your weblog sends a TrackBack ping to the TrackBack URL, so that your post would show up here.
Messages, files, and images copyright by respective owners.