Add Comment |
Related Links |
TrackBack

Related Content
Rusty the Robot Detective
Rusty Robot was dropped onto Pongo Beach one dark night. He was brought there by a special member of the Pongo Express––the fabulous flyers who brought visitors to Pongo Beach. The all-black Stucky the Seagull brought Rusty there under the cover of night because Rusty had a job to do. Sally Starfish was missing from Pongo Beach and they needed the best detective––Rusty––to find her!
Rusty shook the sand out of his metal parts and checked to make sure his partner Clau-Dee the Cloud was O.K. "Clau-Dee you still up there?" "Yeah, but that seagull owes me a new pair of sunglasses, they fell off on that terrible drop!"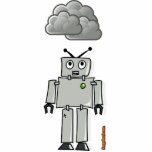 Rusty sighed…Clau-Dee was her normal cranky self. Rusty knew it was hard to be a dark cloud, especially during sunny days. Rusty and Clau-Dee had been best friends since they were in kindergarten. None of the other kids wanted to play with Clau-Dee because she was always getting them wet. And none of the kids wanted to play with Rusty because the sun was always glaring off his shiny metal body and blinding them at times. Rusty and Clau-Dee made a fine pair. And they loved to solve mysteries.
Clau-Dee made people scatter, especially on the sunny days; who wants to be stuck under a stormy cloud? Hovering over Rusty, Clou-Dee blocks the sun, which eliminats all the glare on Rusty. Using their special gifts, they are out to uncover evil secrets; like . . . who kidnapped Sally Starfish?
Gigi
Mon, 24 May 2010 11:03:48 -0700
Add Comment |
Related Links |
TrackBack

Related Content
Did your message disappear? Read the Forums FAQ.
Spam Control | * indicates required field
TrackBack only accepted from WebSite-X Suite web sites. Do not submit TrackBacks from other sites.
Send Ping | TrackBack URL | Spam Control
No TrackBacks yet. TrackBack can be used to link this thread to your weblog, or link your weblog to this thread. In addition, TrackBack can be used as a form of remote commenting. Rather than posting the comment directly on this thread, you can posts it on your own weblog. Then have your weblog sends a TrackBack ping to the TrackBack URL, so that your post would show up here.
Messages, files, and images copyright by respective owners.