Add Comment |
Related Links |
TrackBack

Related Content
Three little sheep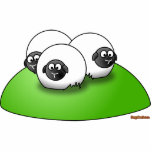 Three little sheep from America were lost at sea during a great storm. They had moved to higher ground atop a roof during the pouring rain. The roof was carried away in the flood and they ended up on Pongo Island. The three little sheep were sisters and brothers. The oldest was Debbie. She was the quiet one, but when she did speak, the others listened. The middle one was Denny. He was the strong one. Denny could lift things with his mouth that any ordinary sheep could not. There was even a tale back home of Denny winning a fight with a wolf. The youngest was Junie. Junie was the smart one. The first thing he thought when they arrived on Pongo Island was,"how do we get home?" What the three little sheep found on Pongo Island was the greeniest grass they had ever seen. Just at the edge of the grass was the bluest water they had ever seen. In their first few days there, they enjoyed the nicest weather with the most beautiful sunshine they had ever seen. After a week, Junie called a meeting to come up with a plan to make it home. Denny said, "I will build us a boat and we will sail home." Debbie finally spoke and said, "well, home is wherever you are at the moment." And finally Junie said, "this is now our home, why would we want to be anyplace else?" They voted, all three, to remain on Pongo Island.
ervin
Fri, 03 Dec 2010 10:38:38 -0800
Add Comment |
Related Links |
TrackBack

Related Content
Did your message disappear? Read the Forums FAQ.
Spam Control | * indicates required field
TrackBack only accepted from WebSite-X Suite web sites. Do not submit TrackBacks from other sites.
Send Ping | TrackBack URL | Spam Control
No TrackBacks yet. TrackBack can be used to link this thread to your weblog, or link your weblog to this thread. In addition, TrackBack can be used as a form of remote commenting. Rather than posting the comment directly on this thread, you can posts it on your own weblog. Then have your weblog sends a TrackBack ping to the TrackBack URL, so that your post would show up here.
Messages, files, and images copyright by respective owners.